September Market Update
Economic Overview:
Treasury yields have declined this week after August CPI inflation mostly met expectations, supporting forecasts that the Fed will keep rates unchanged this month with chances of a hike in November. The increase was mostly attributable to a spike in gasoline prices in August, that increase should be temporary, economists said. This is according to Barron's.
According to the CBO, economic growth slows and then picks up. The growth of real (inflation-adjusted) gross domestic product (GDP) slows to a 0.4 percent annual rate during the second half of 2023; for the year as a whole, real GDP increases by 0.9 percent. After 2023, growth accelerates as monetary policy eases. Real GDP increases by 1.5 percent in 2024 and by 2.4 percent in 2025.
Despite sharp gains for US large-cap stocks thru August YTD, the 2023 market rebound has remained relatively narrow. The top 10 largest US stocks, concentrated in the technology and communications sectors, received a boost from exuberance about the prospects for artificial intelligence and rose more than 40% in the first 8 months of the year.
Trends: 
The Trepp commercial mortgage-backed securities (CMBS) delinquency rate jumped in July 2023 with four of the five major property segments posting sizable increases. Overall, the delinquency rate rose 51 basis points to 4.41 percent. That is the highest level since December 2021.
Office delinquencies rose another 46 basis points and the rate for that segment is now 4.96 percent. The office delinquency rate is now up more than 350 basis points since the end of 2022.
Multifamily, industrial and neighborhood retail continue to perform well. But B- and C-class office buildings continue to have an uphill battle, this according to JP Morgan Chase.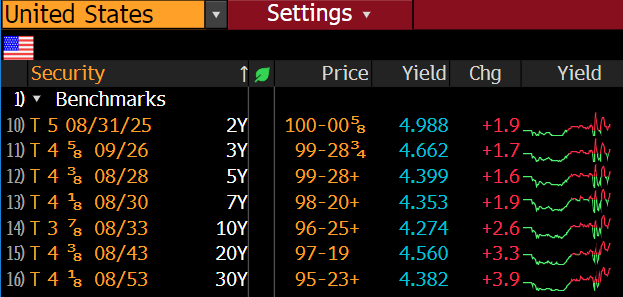 Defeasance Market: 
The cost of defeasance continues to be the lowest it has been in years, with defeasance "premiums" actually negative in many cases, this is the impact of higher rates.
Transactions getting done across the country continue to be driven by mostly select property types; Multifamily, Self-Storage, Retail, Industrial as well as some select Office assets.